Schuyler County Illinois Hunting Lease - Property #4608
This lease may not be available,
but we have tons of other great
hunting leases! Click the link
below to quickly narrow your
search by State and County.
Leased

 Property #:
4608
 Acres:
295
Certified Check/Money Order Price:

Leased
 Max Hunters:
6
Credit/Debit Card Price:
Leased
 
     
  Where is Schuyler county, Illinois?

Hunting Land for Lease Details: This hunting lease is leased and not available. 295 acre farm with absolutely phenomenal hunting. Without a doubt one of Schuyler County's best and one of the best farms I've inspected. Upon inspection of this farm, I literally become tired of taking photos of rubs, scrapes and worn down deer trails. I easily kicked up 25+ deer during my inspection. This farm has everything you need (or you would want) to harvest a great Illinois buck: beautiful hardwood timber that covers the rolling hills, ridges, and deep ravines. There's a creek that provides water for all wildlife throughout the farm year-round.

The secluded crop fields will make for great ambush sites for those big bucks coming out to feed and without a doubt a place they will feel very comfortable to feed with such seclusion. There are numerous (to many to count) funnel and pinch-points on this farm. I found more than a dozen places that I would set a stand, from the ridges to the corner of the secluded crops and right within a couple hundred yards from the road. Just look at the ariel photo and you can see how secluded these crop fields are on this farm!!

Anyone who knows Illinois hunting knows that Schuyler County produces high end bucks year in and year out. I have no doubt that this farm is no exception. After walking this farm, it will hunt much bigger than 295!

*No screw-in steps.

*ATV use permitted.

*No ATV's in the crop fields…MUST stay along edge until you're able to enter the timber.

*Lease runs one year from date leased.

*Spring turkey permitted.



Photos & Maps
Click on thumbnail to view enlarged image. Click on large image to view original size.
Maps are deemed to be accurate, but consider them approximate.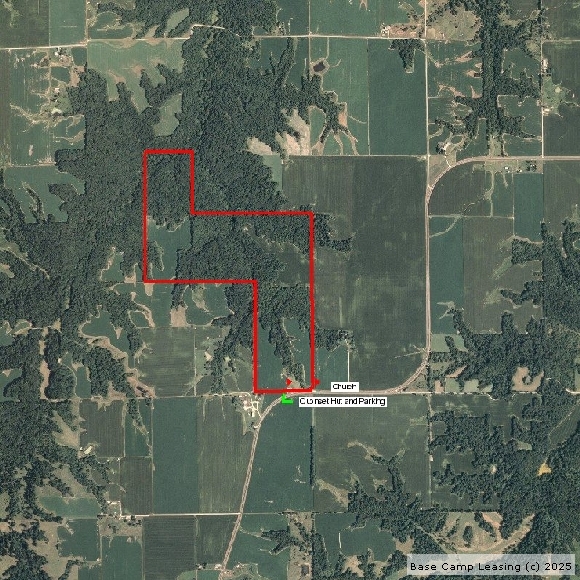 BaseCampLeasing.com: 295 acre Schuyler County, Illinois recreational hunting lease, with hunting and fishing leases across the midwestern, eastern and southern United States.
Toll Free: 866-309-1507 | Phone: 317-576-9520
Base Camp Leasing 10412 Allisonville Road, Ste. 101, Fishers, IN 46038


Copyright© 2014 by Base Camp Leasing