Pope County Illinois Hunting Lease - Property #5086
This lease may not be available,
but we have tons of other great
hunting leases! Click the link
below to quickly narrow your
search by State and County.
Leased

 Property #:
5086
 Acres:
218
Certified Check/Money Order Price:

Leased
 Max Hunters:
5
Credit/Debit Card Price:
Leased
 
     
  Where is Pope county, Illinois?

Hunting Land for Lease Details: This hunting lease is leased and not available. A fabulous 218 acre farm located in Pope County, Illinois. The farm is made up of Timber, CRP, Row Crops, and water! There is no doubt, this farm is holding deer especially when you have a combination of food, cover, and water…a combination that gives you the opportunity to take an Illinois bruiser, especially during the rut when water is a must. There is a clover food plot already established on the farm and several locations for you to plant a few more. The clover is doing very well; it just needs a little work by knocking down the weeds.

This farm is laid out very well for both the archery and shotgun hunter. When you look at the aerial photo, you'll see that the deer have to travel through this farm to get to the crop fields. In the center of the farm is a pond, (northwest of the farm house) just south of that pond is an old clear cut that has been replanted and let me tell you, it is thick and no doubt being used as a bedding area.

The farm is very secluded and no worries of road traffic. The entrance to the farm is completely gated off, where no one can just drive in. For even more security, the farmer keeps an eye on the farm for the landowner.

Upon leasing, I will provide you a key to this gate. There's an old farm house and barn that you can use for storage. The house does not have electric or water but if you needed to stay overnight or just for the weekend, a cot and lantern would get you by.

***The landowner is maintaining the rights to the 1st Shotgun season only.*** He takes his nephew down for the first day and that's all they hunt.

All other seasons you are able to hunt; Archery, 2nd Shotgun, and both Muzzleloader seasons.

4-Wheeler use is okay to place and take down stands and to retrieve your harvest.

Lease runs from 1 April through 20 January to cover spring turkey.



Photos & Maps
Click on thumbnail to view enlarged image. Click on large image to view original size.
Maps are deemed to be accurate, but consider them approximate.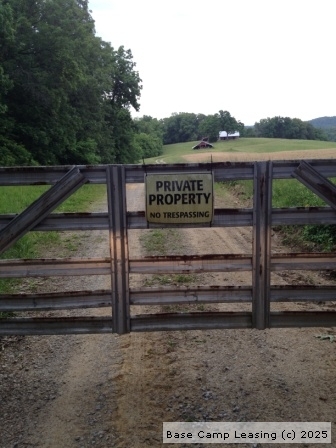 BaseCampLeasing.com: 218 acre Pope County, Illinois recreational hunting lease, with hunting and fishing leases across the midwestern, eastern and southern United States.
Toll Free: 866-309-1507 | Phone: 317-576-9520
Base Camp Leasing 10412 Allisonville Road, Ste. 101, Fishers, IN 46038


Copyright© 2013 by Base Camp Leasing