Clay County Illinois Hunting Lease - Property #5126
This lease may not be available,
but we have tons of other great
hunting leases! Click the link
below to quickly narrow your
search by State and County.
Leased

 Property #:
5126
 Acres:
598
Certified Check/Money Order Price:

Leased
 Max Hunters:
10
Credit/Debit Card Price:
Leased
 
     
  Where is Clay county, Illinois?

Hunting Land for Lease Details: This hunting lease is leased and not available. Here's a great farm being offered in Clay County, IL with lodging. This farm is made up of timber, row crops, pasture ground and water, everything you need or would want in order to have the opportunity to harvest one of those Illinois bruisers! The photo below showing the two locked bucks was taken by the landowner right on the property line of this 598 acre farm. The 16 point was deceased and the 21 point was dragging him around barely alive. This photo shows you exactly the caliber of bucks that are calling this farm home. The landowner has 200 head of cattle on the North end of the farm. The cattle will have no effect what-so-ever on your hunting. With having the cattle, the pasture ground is absolutely loaded with ladino clover and there is no doubt the deer are grazing in these fields. While inspecting this farm, I put up over 20(+) deer and several that were growing their antlers. I also found numerous funnels, pinch-points, and stand locations. The great thing about this farm is you never have to leave. There is a cabin for you lodging convenience that will sleep 6 at one time. It comes with stove, refrigerator, bath and furniture. No need to eat out each morning and evening, you can cook right there on site. There is also a storage building to store you stands, targets, etc., and an open shed to hang any deer you harvest. You will not be disappointed with these 598 acres.



Photos & Maps
Click on thumbnail to view enlarged image. Click on large image to view original size.
Maps are deemed to be accurate, but consider them approximate.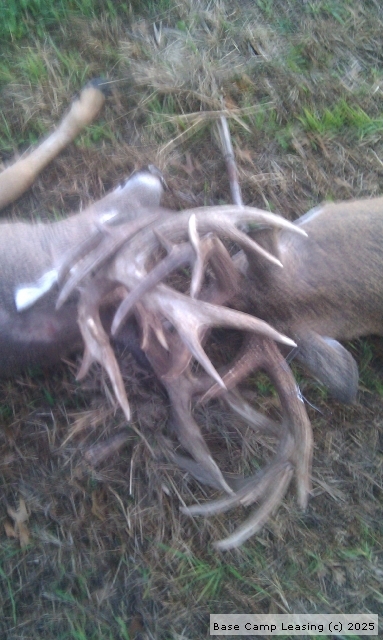 BaseCampLeasing.com: 598 acre Clay County, Illinois recreational hunting lease, with hunting and fishing leases across the midwestern, eastern and southern United States.
Toll Free: 866-309-1507 | Phone: 317-576-9520
Base Camp Leasing 10412 Allisonville Road, Ste. 101, Fishers, IN 46038


Copyright© 2013 by Base Camp Leasing