Clermont County Ohio Hunting Lease - Property #4364
Contact Leasing Agent
To contact the leasing agent
for this lease, you need
to have one of our
paid memberships.
Leased

 Property #:
4364
 Acres:
80
Certified Check/Money Order Price:

Leased
 Max Hunters:
4
Credit/Debit Card Price:
Leased
 

Want Driving Directions & Permission to inspect this lease?

You will need one of our paid memberships to get driving directions or permission to inspect this lease. Click here to choose a membership level that fits your needs.


   
  Where is Clermont county, Ohio?

Hunting Land for Lease Details: This hunting lease is leased and not available. Wow...fantastic Cincinnati area southern Ohio big buck 80. It is hard to find places to hunt in this area and we just found a great one. This 80 acres has it all, including big bucks which are seen frequently in the area. Perfect combination of 60% timber and 40% crops. Access is from the east for those normally westerly winds in the area. All fields are hidden from the roads and prying eyes, so the deer come out early. This property has everything - hardwoods, funnels, 5 acre overgrown bedding area, points, inside corners, ravine, crops, and water, and is connected to larger timber. Lease is close to the suburbs, but very secluded. Section of land to the west does not allow hunting providing a great sanctuary. There has been a couple 160 plus class bucks taken off this property in the past. If you are looking for one of those giant Ohio whitetails, this is where you will find one. Within 2 miles to East Fork State Park, which harbors monster whitetails.



Photos & Maps
Click on thumbnail to view enlarged image. Click on large image to view original size.
True
Maps are deemed to be accurate, but consider them approximate.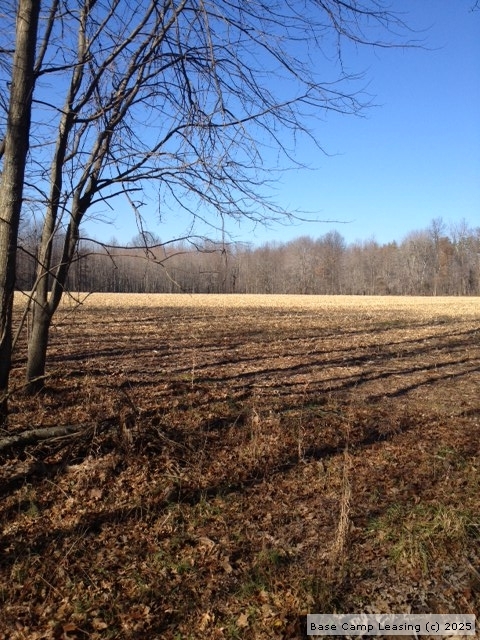 BaseCampLeasing.com: 80 acre Clermont County, Ohio recreational hunting lease, with hunting and fishing leases across the midwestern, eastern and southern United States.