Jo Daviess County Illinois Hunting Lease - Property #4661
Contact Leasing Agent
To contact the leasing agent
for this lease, you need
to have one of our
paid memberships.
Available


 Property #:
4661
 Acres:
186
Certified Check/Money Order Price:

$16000
 Max Hunters:
8
Credit/Debit Card Price:
$16800
 

Want Driving Directions & Permission to inspect this lease?

You will need one of our paid memberships to get driving directions or permission to inspect this lease. Click here to choose a membership level that fits your needs.


       
  Where is Jo Daviess county, Illinois?
  How Our Leases Work - Click Here

Hunting Land for Lease Details: Wow is all I can say...What an amazing farm!! This farm, by far, is one of Joe Daviess County premier managed farms! It just doesn't get any better than this. This farm is very well managed and it comes with an absolutely gorgeous home for your lodging pleasure! Farm is 186 acres, which is made up of CRP, several ponds, heavy to light timber, deep heavily wooded draws with several running streams. The driveway entering to the home is approximately a 1/2 mile. The entrance has a locked gate; this farm and home is very quiet and very private.

The landowner has seeded red clover around the edges of several fields and cut lanes through the CRP for the deer to more easily travel. He has put up 3 enclosed huts and intends to add one more this summer along with a portable one. They're fully enclosed with a bottom entry door and hinge down Plexiglas windows with a small LP gas heater which can keep it very warm if needed. All the **red flag markers** on the aerial represent current stand locations that are in place and for your use.

The pictures of the farm, trail-cam pictures and the pictures of the home speak for themselves...Those buck on trail-cam are still running this farm!

***To have this lease all to yourself year round in a county that is known for its bruiser bucks (and this farm has some bruisers running around on it) is absolutely a hunter's dream come true! You will not be disappointed in this farm!

***Absolutely NO SMOKING in the home.-NO PETS allowed in the home.-Shoes must come OFF at the door. The landowner asks that you treat the home and furnishings as if they were your own!****




Lock It In!  Make A Deposit On This Hunting Lease

Photos & Maps
Click on thumbnail to view enlarged image. Click on large image to view original size.
False
Maps are deemed to be accurate, but consider them approximate.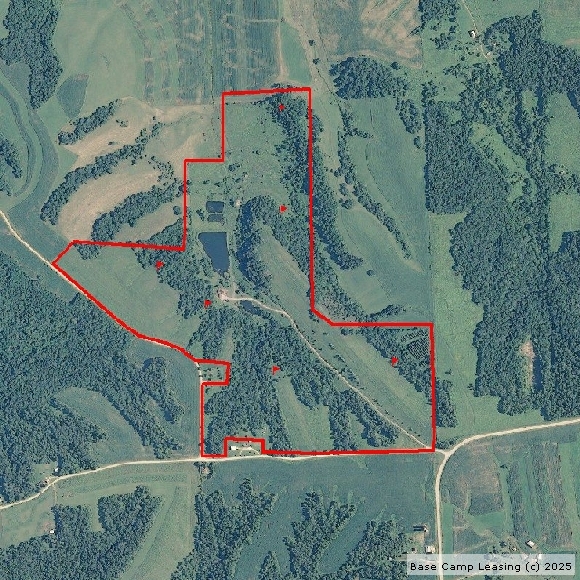 BaseCampLeasing.com: 186 acre Jo Daviess County, Illinois recreational hunting lease, with hunting and fishing leases across the midwestern, eastern and southern United States.