Clark County Ohio Hunting Lease - Property #5037
This lease may not be available,
but we have tons of other great
hunting leases! Click the link
below to quickly narrow your
search by State and County.
Leased

 Property #:
5037
 Acres:
346
Certified Check/Money Order Price:

Leased
 Max Hunters:
7
Credit/Debit Card Price:
Leased
 
     
  Where is Clark county, Ohio?

Hunting Land for Lease Details: This hunting lease is leased and not available. This farm is the reason everyone wants to hunt Ohio!!!! This property is half timber and the rest is in row crops and thickets. This fantastic property is located on the Clark/Champaign County line and is as good as I have seen. Just so you know, when most of the big names in the industry hunt Ohio they set up just north of this area, and for good reason. This farm is just littered with giant rubs, as you can see from the pictures. I could not go anywhere on this property without seeing big buck sign. The property is located next to an old landfill which has been closed since the eighties, and now is in beautiful grass fields which are fenced off and patrolled to keep an eye on things. I was told that only one person has had permission to hunt this farm for years and it shows.

If your group would like to manage a great Ohio farm then look no further. Hardwoods, crops, water, genetics, age and the fact you have five distinct sections of cover to hunt make this a sure winner.

This is a deer only lease from August 1st – March 20th. An extension may be given for turkey season at the landowner's discretion. No camping allowed and ATV use with landowner permission only.



Photos & Maps
Click on thumbnail to view enlarged image. Click on large image to view original size.
Maps are deemed to be accurate, but consider them approximate.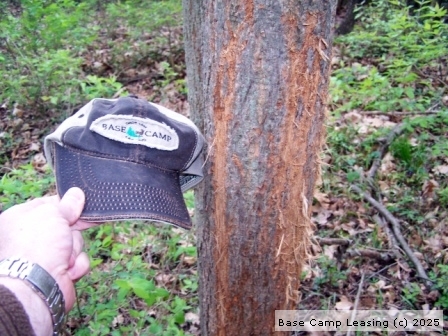 BaseCampLeasing.com: 346 acre Clark County, Ohio recreational hunting lease, with hunting and fishing leases across the midwestern, eastern and southern United States.
Toll Free: 866-309-1507 | Phone: 317-576-9520
Base Camp Leasing 10412 Allisonville Road, Ste. 101, Fishers, IN 46038


Copyright© 2014 by Base Camp Leasing