Dodge County Wisconsin Hunting Lease - Property #5893
Contact Leasing Agent
To contact the leasing agent
for this lease, you need
to have one of our
paid memberships.
Leased

 Property #:
5893
 Acres:
100
Certified Check/Money Order Price:

Leased
 Max Hunters:
4
Credit/Debit Card Price:
Leased
 

Want Driving Directions & Permission to inspect this lease?

You will need one of our paid memberships to get driving directions or permission to inspect this lease. Click here to choose a membership level that fits your needs.


   
  Where is Dodge county, Wisconsin?

Hunting Land for Lease Details: This hunting lease is leased and not available. A really nice 100 acre property primarily bordered on two sides by the Beaver Dam River. This property has a long history of successful hunters and I seen plenty of sign to make me believe that is true. During my inspection I did jump a 2 1/2 old buck with two does, but was not quick enough with the camera to take a picture. The property is a mix of marsh, river bottoms and agricultural land that is primarily in hay. The river makes for a natural funnel and transition zone between various types of surrounding properties. There are also a couple of acres on the north side of property that is on the opposite side of the river. This is bordered by 70 acres where hunting is not allowed which could make for an interesting stand location. Wonderful landowners who live on the property who will keep a watchful eye on it while you are not there. All legal game with the exception of pheasants are included in your lease. Respectful use of ATV's allowed and camping with permission from landowner on where and when. Landowner would like to be contacted prior to coming to land. Landowner has a soft spot in his heart for turtles and thus does not want them harmed in anyway.



Photos & Maps
Click on thumbnail to view enlarged image. Click on large image to view original size.
True
Maps are deemed to be accurate, but consider them approximate.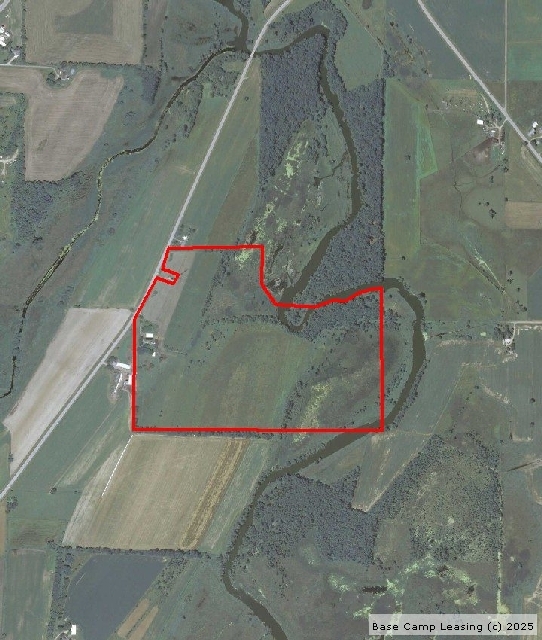 BaseCampLeasing.com: 100 acre Dodge County, Wisconsin recreational hunting lease, with hunting and fishing leases across the midwestern, eastern and southern United States.