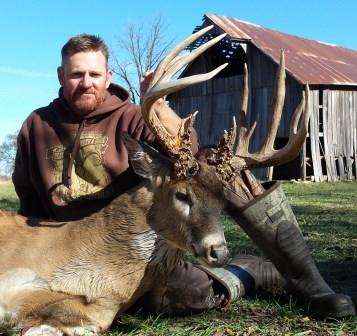 Kansas Leasing Agent
Brandon is blessed by living in a state with everything a hunter could want, Kansas. From mule deer, an occasional elk and pheasant in the west, to quail in the east, and monster whitetail and turkey statewide, there is something for everyone in Kansas. Having the opportunity to hunt in states from Montana all the way down to Texas and Georgia, he still feels there is nowhere like home.
He grew up in Topeka, but his heart was on the family farm in southeast Kansas. This is where he first started hunting cottontail rabbits with his BB gun and then with his bow. As he got older, he got infected with buck fever and this has turned into his true passion. While being blessed by having some private land to hunt and fish on, he understands leasing will have a huge impact on the future, as he himself doesn't live close enough to these properties to enjoy them as much as he would like. He enjoys talking to people and would enjoy bridging the gap between hunter and landowner to help more people enjoy the great outdoors like he does.
Brandon is lifelong resident of Kansas, except for a short stint in Branson, MO. He is married with two young children. He can't wait until the day they are old enough to sit in a blind with him. He is a graduate from Kansas State University and is also a licensed real estate agent working for Base Camp Country Real Estate.
Please contact Brandon with any questions that you might have about putting your land up for lease or about leasing one of our hunting properties. He can be reached at (316) 312-9825.