Hunter & Landowner Testimonials
Home > Hunter & Landowner Testimonials
Landowner Testimonial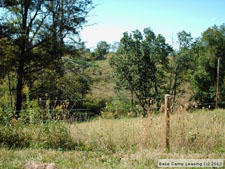 "We have been very pleased with the Base Camp Leasing program. The people you have sent our way have been wonderful. They truly appreciate and respect the land. We look forward to working with Base Camp in the years ahead."   Donna, OH
Hunter Testimonial
"I have hunted in many different states, but it is nice to have a known place to go to every weekend during white tail season. Now that my son is 14, he wants his own independence. On our 20-acre Base Camp Leasing property, we can each have different places to hunt on the property and I don't have to worry about other hunters. We had so much success our first year with Base Camp, that I've already leased the property again for next year. My son and I both got deer last year, with the largest being a 150" spot and stalk bow kill."   Don & Jesse, IN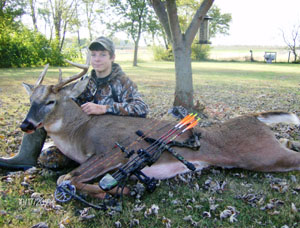 Don and Jesse from Base Camp Leasing property in Southern Indiana, November 2010
Landowner Testimonial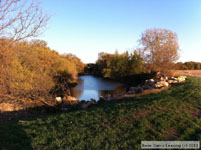 "I was looking at options to lease my ranch land for hunting. I am not an avid hunter, and felt that it would not be right with my property to not let someone enjoy the hunting prospects. From the very first contact with Base Camp Leasing it has been a pleasant professional experience. My land is all in lease, and the entire process is care free for me. The added bonus is the money that comes from the lease."
"My insurance agent would not allow any hunting other than direct family. I asked about the possibility of a third party leasing agent and when I explained the liability policy that Base Camp provides, there was no problem entering into this agreement."
"The hunters on my land have been very respectful and I am happy to have them coming in again this fall. I would recommend this process to those interested in having hunters on their land, and as a source of extra income from your property."   Dan, KS
Hunter Testimonial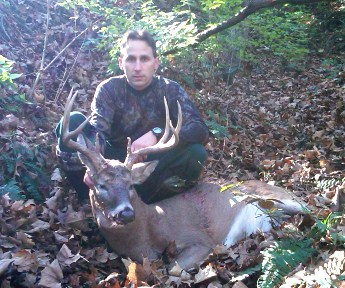 "I enjoy doing business with Base Camp Leasing. This is the second time I have leased from Basecamp. I had a lease in Missouri a few years back. You guys do a great job, so keep up the good work. That is the entire reason I came back when I needed a new lease in Michigan."   Dru, MI
Hunter Testimonial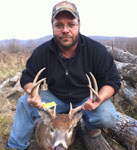 "I have been hunting for 10 years now, in a variety of places. Public land, friends' camps, and farms looking for help with deer population. I've had my chances, but they have been few and far between. It can be difficult to really enjoy your hunt when you have a limited number of options and even more limited time. Last year we joined the "Base Camp Leasing Family" and it has been probably the best choice I have made for hunting. Our agent, Doug Petro, was very helpful and the process was extremely easy."
"The picture attached is my first deer ever, which was taken the second morning of the season. The first day I saw 12 deer from my stand and a buck larger than this one, but didn't have a clean shot. The property is amazing, it is always open to me when I get the time off from work to go, and I can relax when I am there without worrying about the safety aspect of not knowing who is hunting around me. I can't imagine going back. Thank you for the service you provide."   John, NY
Landowner Testimonial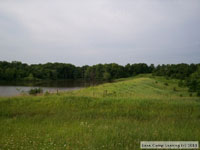 "I've had an excellent experience with Base Camp collaborating and leasing with quality hunters while offering a rewarding outcome for all parties."
  Jeff, IL
Hunter Testimonial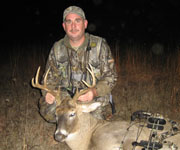 "My father and I have leased the same 60-acre property since 2004. Base Camp makes it easy and the best part is that we always know that we'll have first right of renewal on the property. The landowner has been great and has even mowed paths for us and allowed us to plant a food plot. It's great knowing we'll always have some place to hunt that is only 15 minutes from where we live."   Ty, MI
Landowner Testimonial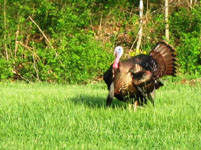 "I am a happy Base Camp Leasing landowner for three years running now. Base Camp has been great to work with, and has made it easy to receive revenue from my land. They have provided hunters who were always conscientious, and even personable. Base Camp has made it easy with a turn-key system, includes liability coverage, even showing the place to prospective clients for me. A quality and valuable service!"   Paul, MO
Hunter Testimonial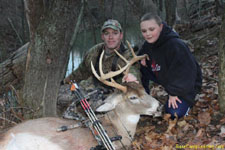 "Basecamp leasing affords hunters like me the fantastic opportunity to find great hunting properties in one easy location at a good price. And the hunting is great as well. I have harvested a good buck 3 out of 4 years with a basecamp lease."   Scott, OH
Landowner Testimonial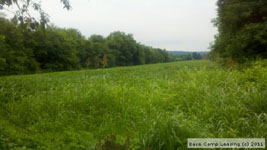 "We were very pleased with our experience with leasing our farm with Base Camp Leasing. Our leasing agent was knowledgeable, and very responsive to our questions. Our farm leased within hours of being placed on the public website. We could not be happier with the entire experience."   Landowner, KY
Hunter Testimonial
"Steve, here are a few photos. The first w/ truck in background was our first time with basecamp in Illinios, the second was last year in Ohio, and another was this year in Ohio. Feel free to use any of the photos. Like I said this was our third year with BaseCamp leasing and we could not be happier, I never thought hunting out of state could be so easy and so successful. Can't wait until next year!"   Rod, MI