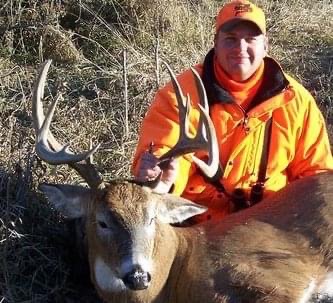 Leasing Agent
NW Minnesota Leasing Agent
Michael Brown is the northern Minnesota and North Dakota Agent for Basecamp Leasing. Mike was raised in west central Minnesota, where he started out hunting waterfowl with his family. His passion for the outdoors continued to grow and he found himself obtaining a degree in Wildlife and Fisheries Science from South Dakota State University in Brookings, SD. He worked for several agencies throughout North and South Dakota before settling back in the area he grew up in, where he currently works as a Firefighter for the City of Fargo, ND. He has been married to his wife Christi for 23 years. They have 3 daughters who also enjoy hunting and the outdoors.
Mike enjoys travelling to states like Wyoming, South Dakota and Colorado to chase Elk, Mule Deer and Antelope. He also owns property in Minnesota where he has taken several trophy whitetail deer, turkey and bear. One of his favorite hobbies has become managing habitat to produce the best hunting possible. Mike is a member of the Quality Deer Management Association and Pheasants Forever, where he served as the Habitat Chair for several years, working with Landowners to develop and implement conservation programs on their property.
Whether you are looking to lease your Minnesota or North Dakota land or you are a hunter looking to lease a Basecamp property, give Mike a call at 218-790-1552.